Streamline your organization with
Transformational
Managed IT Services for Healthcare
Healthcare IT management experts with 35+ years of experience
Trusted by 40,000+ users and 6,000+ providers at 2,000+ locations
HIPAA-compliant, SOC 2-certified specialists
Customized services to meet your
unique healthcare IT needs
35+ years transforming Healthcare IT operational maturity
Experts at accelerating organizational growth
Healthcare IT Transformation Specialists
Thought Leadership in Healthcare IT

Managed IT support services
Secure patient & provider data
Secure patient & provider data
For healthcare organizations, keeping confidential patient/provider data secure is paramount. Our multilayered security solutions take a proactive approach to cyber safety, helping ensure potential threats are identified and neutralized before they strike.
Onboard with ease
The best IT managed service providers in healthcare take tasks off your plate, not add more. Medicus IT understands that changing MSPs can be a complicated and time-consuming process, and we don't think that's a process you should have to handle. We'll work to create a customized solution for your healthcare organization that enables a seamless, pain-free transition to our service model.
Accomplish efficiency
Managing outdated IT infrastructure while trying to provide quality healthcare is a recipe for disorganization and inefficiency. With our healthcare IT managed services package, you're able to streamline your technology and focus solely on what matters most: your patients.
Achieve peace of mind
Your managed IT service provider shouldn't leave you wondering if you're in safe hands. With over 35 years of experience in healthcare IT, Medicus knows how to create customized, healthcare-focused solutions that help improve and protect your organization. Our IT management services help keep your information safe, your patients happy, and your processes running smoothly.
"We have used Medicus IT since going on our EMR system in 2008. They have provided wonderful service to us over the last decade. They are always professional, prompt, and keep us up and running. We rely on them totally for all of our IT needs. Can't say enough how much we appreciate their excellent customer service!"
"Medicus IT became a huge lifesaver at a time our practice needed it most. Being in healthcare, we really needed a company that knew now only how to provide IT services and technology for us, but also knew the rules and regulations affecting healthcare today. Within a year, Medicus IT worked with us to upgrade, fix, and correct our issues by level of importance and really helped us get to a level where we felt comfortable knowing that our data was protected."
Leave IT to the healthcare technology experts
Our mCare™ managed services package simplifies the IT process for healthcare organizations while adding essential solutions that most managed service solutions don't or cannot offer. mCare provides a customized solution that addresses complicated healthcare environments, streamlines processes, and empowers growth through industry-leading IT management and support services.
Managed IT support services
When problems occur, our team is here to provide quick solutions that help minimize downtime and keep technologies working smoothly. Our certified technicians and engineers, trained in HIPAA, HITECH, and Omnibus Rule, provide "Always On" technical support for your IT infrastructure, ensuring you're never left without a helping hand. We offer:
Easy-to-use helpdesk services
Triage and troubleshooting
Complex systems resolution
Bug & vulnerability resolution
Vendor & carrier management
Preventive maintenance
24/7 remote monitoring
Performance reporting
In-person or virtual support
Complete infrastructure management
We handle every aspect of your healthcare IT infrastructure, from cybersecurity to telecommunications. Our "all-you-need" managed services contract includes everything you need to create and maintain a top-of-the-line IT infrastructure. We offer:
Advanced technical support
Cybersecurity solutions
Managed cloud services
HIPAA-compliant VoIP communications
Lifecycle and license management
Digital transformation services
Systems monitoring & maintenance
Strategic planning & support
Transformational strategies
Medicus not only helps you run your healthcare organization — we'll help it grow and transform. As part of your managed IT services package, you receive expert insight and individualized solutions that help you leverage technology to improve patient outcomes, boost productivity, and take your organization's operations to the next level. We provide:
Digital strategy development & implementation

Business restructuring

Digital IT transformation

Application modernization

Patient experience enhancement

In-depth IT infrastructure assessment

Designated success managers
Why choose Medicus as your managed IT service provider?
We focus exclusively on healthcare
Compliance and patient confidentiality are of utmost importance in healthcare, but few MSPs have the expertise needed to meet these requirements effectively. With 35+ years of healthcare IT experience, we understand what protections your organization needs and know how to implement them in ways that strengthen your IT infrastructure.
We handle it all
From cloud computing and telecommunications to cybersecurity and digital transformation, we ensure that all aspects of your IT infrastructure are built to meet and exceed your healthcare organization's needs.
We help you grow
Medicus isn't just your go-to healthcare managed IT service provider — we're also your strategic partner. We help you integrate new technologies, modernize outdated IT processes, and plan for the future to foster better service, happier patients, and faster growth.
We protect your reputation
Our multilayered security services help ensure that critical information remains safe and cyber threats are caught early. These preventative measures help maintain your organization's prestige, bolster patient trust, and address healthcare security with a proactive approach.
We keep technology simple
With our managed IT services solution, there are no hidden fees, no drawn-out transition phases, and no battles when breaking away from your current MSP. Based on your goals and healthcare IT needs, we create a plan that enables a smooth, seamless transition of your organization's processes to Medicus.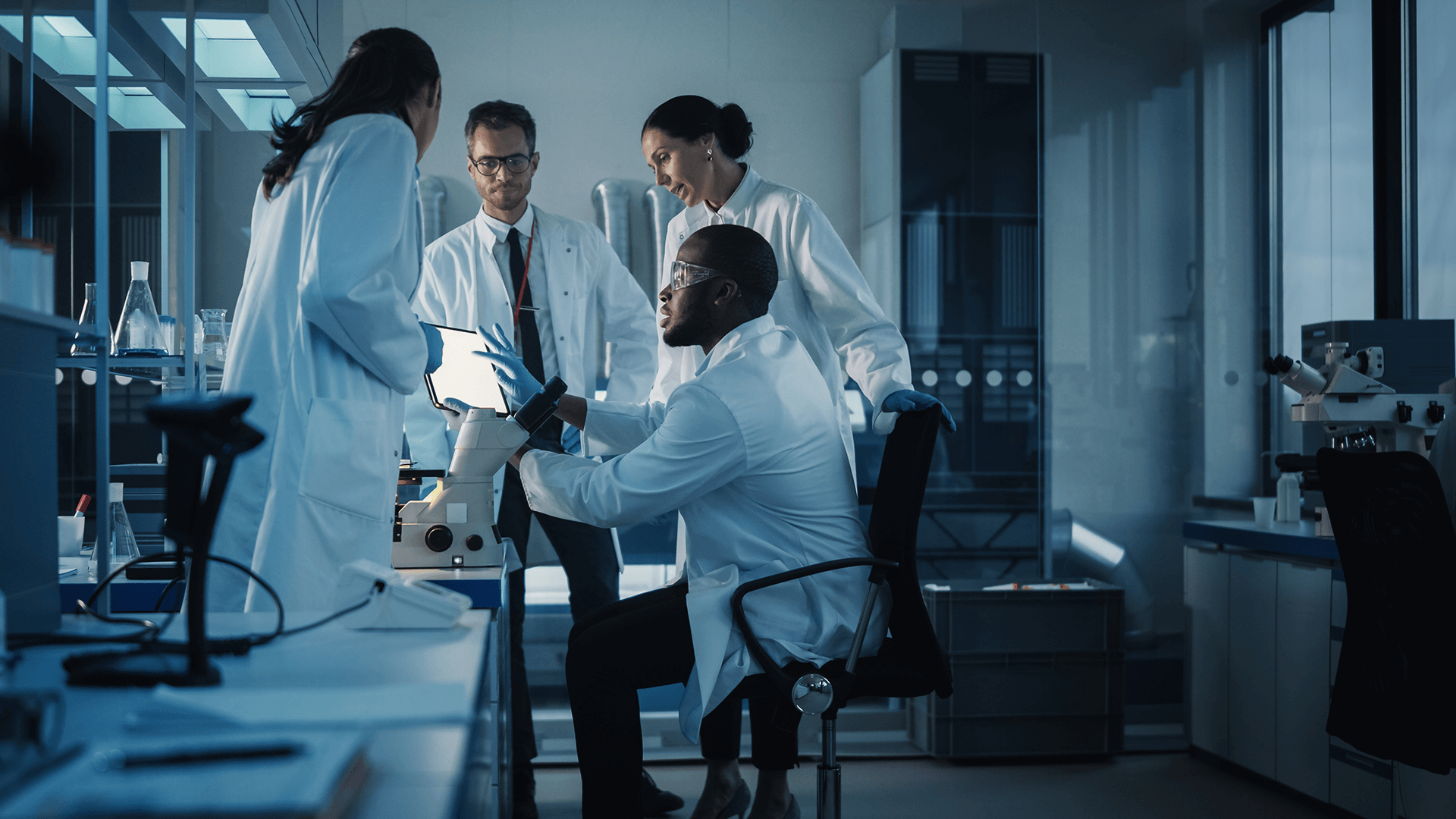 5 Benefits of Managed IT Services for Healthcare
A managed service provider (MSP) delivers services like network, application, infrastructure, and security in their MSP's data center (hosting), or in a third-party data center. They also provide ongoing, regular support and active administration on their customers' premises.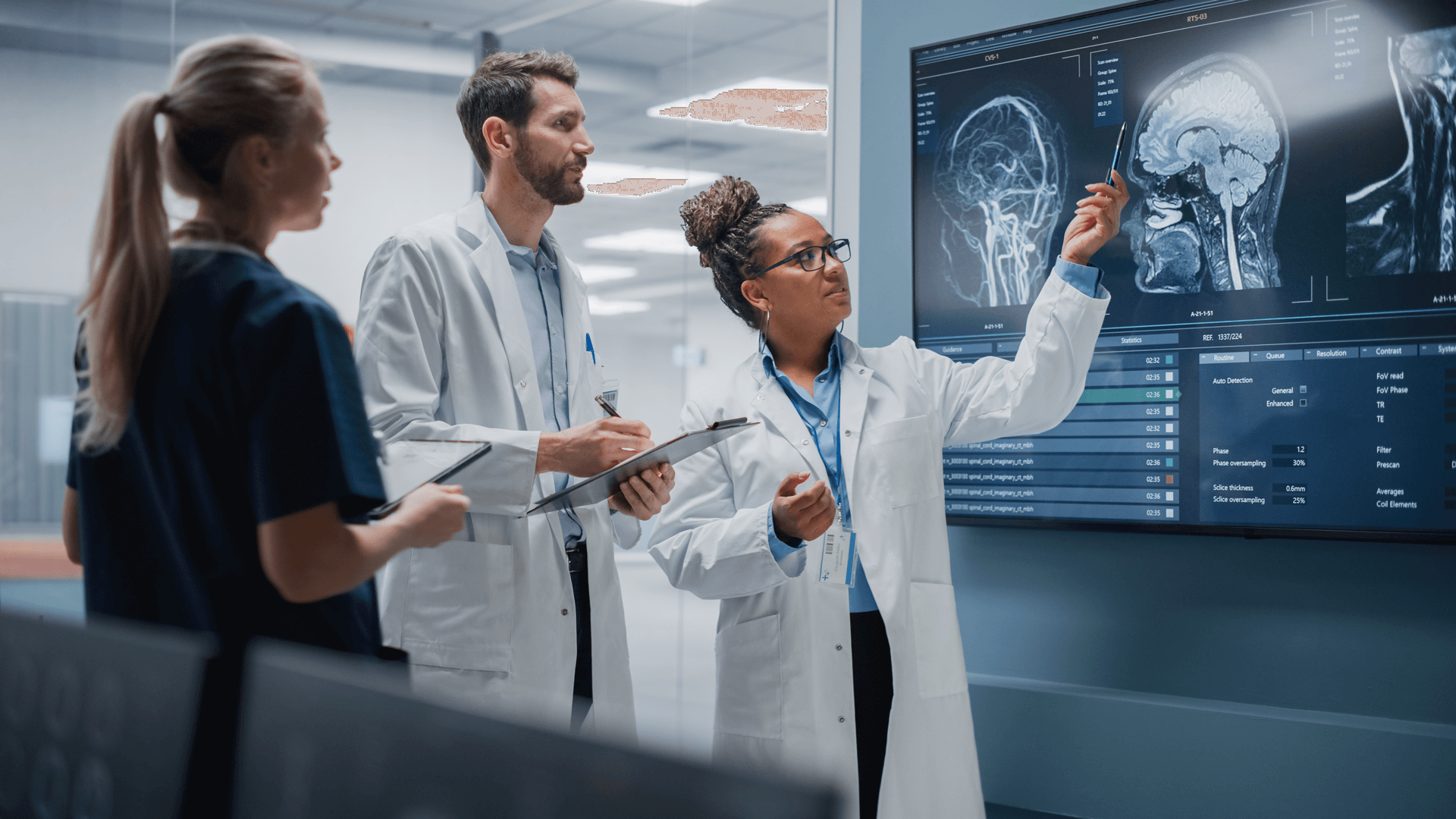 Watch our IT management webinars
We aren't just players in healthcare IT management – we are leaders. See how we are leading the way to help other companies make the most of their infrastructure through managed IT services.
What is included in your managed IT services package?
We customize packages based on your specific healthcare IT needs, so services may vary. Some of the many tools we provide include IT management, cloud services, HIPAA-compliant VoIP, cybersecurity tools, service desk communication, advanced IT support, 24/7 remote monitoring, preventative support and maintenance, performance reporting, vendor and carrier management, lifecycle and license management, digital transformation strategy and implementation, and designated success managers.
Can I purchase certain IT services as standalone products?
No, our "all-you-need" managed IT package includes every essential service your organization will require, at a flat price and without hidden fees. Certain optional entitlements, such as vCIO services and onsite reactive support, may be added to your IT package to meet additional needs that your organization may have.
What can I expect from a consultation with Medicus?
During a complimentary preliminary consultation, we will assess your organization's situation and suggest the best way to move forward with your IT strategy. There are no obligations — the decision to choose Medicus is entirely up to you.
What happens when I need technical support?
We provide a single point of contact through our helpdesk, which staff can contact via phone, email, or web portal to open a service ticket and receive a speedy resolution.
Why choose Medicus over other managed IT service providers?
Few others have the experience, training, technology, and resources necessary to deliver secure, healthcare-focused IT management services. Often, other MSPs also lack the strategic insight that can help you improve your healthcare organization both now and throughout the future. They may help you run, but we help you grow and transform as well.
What are your credentials?
Medicus is an SOC 2-certified organization that trains all employees in HIPAA, HITECH, and Omnibus Rule. In addition, all IT engineers are required to pass a two-year nationally recognized certification exam focusing on these areas. Coupled with BAA signature, these credentials allow us to maintain compliance in all aspects of IT strategy and service.
Ready to transform your IT infrastructure?
Whether you're dissatisfied with your current MSP or looking to overhaul your IT processes, a complimentary consultation with Medicus can help you decide the best way to move forward. We'll walk you through:
How we foster a seamless MSP transition
Areas where your IT infrastructure can improve
How digital transformation revolutionizes healthcare
A consultation with Medicus isn't a contract, and there are no obligations when you reach out to us. Our goal is to show you how a customized, healthcare-focused IT strategy can help your organization soar.