Optimize Patient Care Through
Digital Transformation
35+ years transforming healthcare IT operational maturity
Experts at accelerating
organizational growth
Healthcare IT
transformation specialists
Thought leadership
in healthcare IT
35+ years transforming Healthcare IT operational maturity
Experts at accelerating organizational growth
Healthcare IT Transformation Specialists
Thought Leadership in Healthcare IT
Transformational services
Eliminate infrastructure issues
Eliminate infrastructure issues
Equipment and application underutilization, downtime, and other infrastructure issues create unwanted complications. Our digital transformation experts work with you to eliminate these problems and help you grow.
Maximize your equipment use
Maximize your equipment use
Not being able to access EMR, laptop issues, or network outages can bring your operation to a halt. Medicus is constantly watching your environment identifying problems before they happen, and when they do, we move into resolution mode. We are a phone call or click away when you need to get back to delivering quality care.
Improve employee satisfaction
Improve employee satisfaction
Technology issues can be frustrating, and that frustration can lead to greater employee and provider turnover – especially in a post-COVID world. We help increase internal satisfaction by minimizing IT issues, so you can focus on what matters most – serving your patients.
Boost your efficiency
Aligning your organizational goals with technology, maturing your IT operations, protecting your patient's data, and optimizing processes are the best ways to make your practice or healthcare organization thrive. At Medicus, we collaborate with you, and take an experienced, preventative strategic approach toward IT and its impact on your business. 
"We have used Medicus IT since going on our EMR system in 2008. They have provided wonderful service to us over the last decade. They are always professional, prompt, and keep us up and running. We rely on them totally for all of our IT needs. Can't say enough how much we appreciate their excellent customer service!"
"Medicus IT became a huge lifesaver at a time our practice needed it most. Being in healthcare, we really needed a company that knew now only how to provide IT services and technology for us, but also knew the rules and regulations affecting healthcare today. Within a year, Medicus IT worked with us to upgrade, fix, and correct our issues by level of importance and really helped us get to a level where we felt comfortable knowing that our data was protected."
Healthcare digital
transformation services
Digital strategy development
Every successful journey starts with a roadmap, and digital transformation is no different. Our discovery and planning sessions collect valuable information and insight to drive your organization forward. Collaboratively, we develop a comprehensive digital strategy that defines the transformational path unique to your organization.
We will:
Identify current gaps and roadblocks
Assess your existing infrastructure, tools, and apps
Analyze your competitors' digital efforts
Outline the global vision with long-term goals and short-term objectives
Prepare your organization for the upcoming digital transformation
Business restructuring
Don't let a lack of synergy between your technology and core business processes prevent you from digital transformation. We help modernize your healthcare organization's infrastructure, optimize your business processes, and connect the two pieces into a powerful system.
Our business restructuring specialists will:
Identify opportunities for innovations
Restructure and digitalize your business processes
Integrate new technology into the current workflows
Prepare your organization for future mergers and acquisitions
Application modernization and IT transformation
Application modernization and IT transformation are crucial for your organization's transformation journey. Legacy apps and complicated infrastructure increase maintenance costs and lead to business inefficiency.
At this step, our experts will:
Rationalize from the list of your existing applications that need upgrades
Recode and revive your legacy applications
Migrate your infrastructure to the cloud
Manage a pool of apps for enhanced patient experience
Patient experience enhancement
Improving the patient experience and outcomes are the prime directive for digital transformation. Technology undirected does not make a substantial difference. We help develop the plan, manage execution, and drive innovation, which leads to your ability to deliver the ultimate patient experience.
Our transformation specialists will:
Make sure your technology is aligned with telehealth needs

Increase EHR interoperability

Ensure your communication channels are secure and compliant

Set up patient portals or other messaging solutions

Identify further opportunities for patient engagement
Why work with Medicus on your digital transformation?
Exclusively healthcare focused
Healthcare is especially vulnerable to cyberattacks – we offer tailored solutions to keep your most sensitive data safe. Built by healthcare IT insiders, Medicus understands the critical importance of security in the healthcare space.
Digital transformation and beyond
By signing with us, you receive more than just digital transformation services. Our team takes care of your IT needs, from cybersecurity to telephony.
Revolutionized healthcare
We modernize your healthcare organization and streamline its IT processes, helping you boost productivity, increase provider satisfaction, and improve patient outcomes.
Results without the complications
We cover every single aspect of your organization's digital transformation, so you can focus on delivering care.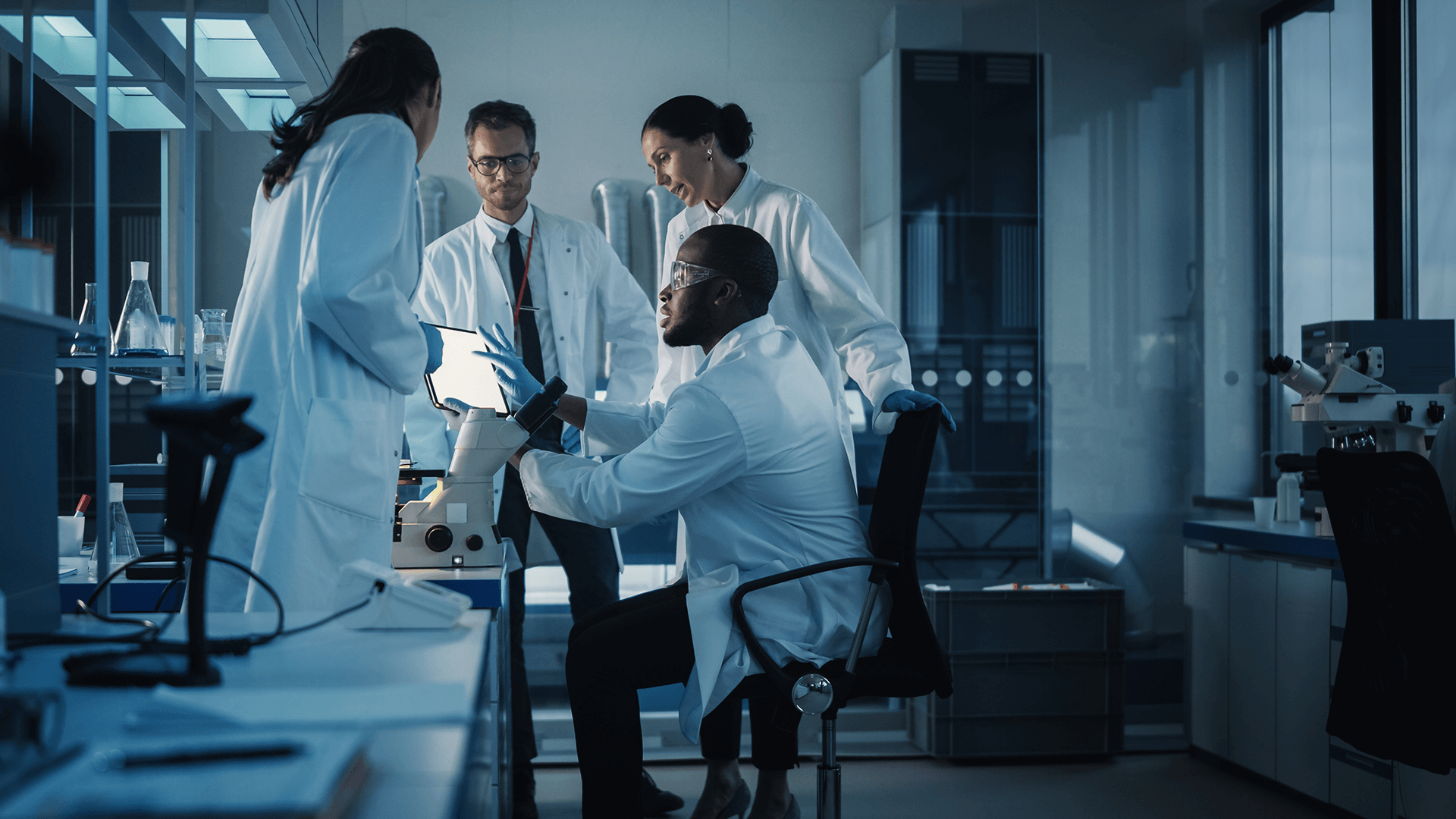 A Comprehensive Guide to Digital Transformation in Healthcare
When done right, digital transformation helps elevate data-driven businesses by streamlining work, optimizing systems, reducing human error, lowering administrative costs, and improving patient outcomes. But what does the digitalization of the healthcare industry really mean, and how can it deliver significant results?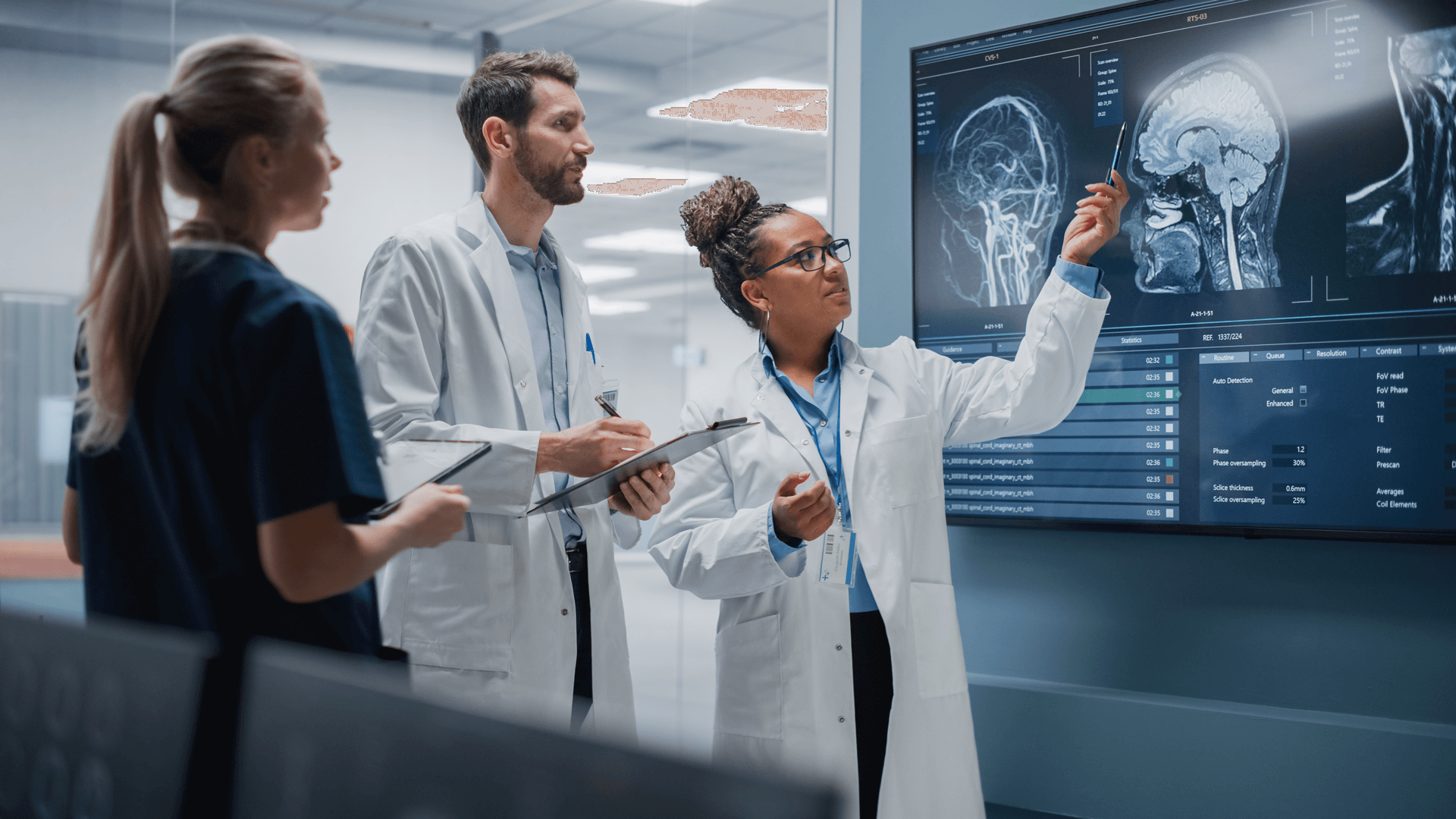 Watch our digital transformation webinars
We aren't just players in digital transformation in healthcare – we are industry leaders. See how we are leading the way to help other companies make the most of their IT infrastructure through digital transformation.
What managed IT service packages and digital transformation services do you offer?
We provide structured managed service packages designed to fit the unique needs of your healthcare organization. We also offer digital transformation services as optional entitlements that can be added to your managed services package. Our digital transformation services blend a combination of our virtual Chief Information Officer, consulting, application support, and engineering services to prepare your organization for the future.
What are the key areas of digital transformation?
Digital transformation in healthcare touches on every aspect, from company culture to business processes and technology adoption.
The key areas of digital transformation in healthcare are:
Optimizing business processes

Improving patient flow and satisfaction

Maximizing equipment use
How is digital transformation success measured?
Digital transformation success is hard to quantify since it's all about changing the way your healthcare organization serves patients by utilizing the latest technology. At Medicus, we think that digital transformation is successful when the leadership team is able to drive better business outcomes and make better business decisions faster.
How do you develop a digital strategy?
Our digital transformation services include a thorough assessment of your current strategy, business goals, network, competitors, and patients. Based on our findings, we choose the best course of action tailored to your organization's specific needs.
Does digital transformation in healthcare ever end?
Digital transformation for healthcare organizations is a constant process of improvement. It's more than just adopting the latest technology — it's about understanding patients and adapting to the ever-changing environment.
Ready to deliver better care and improve efficiency?
Take the first step and assess your organization's digital transformation readiness.
30-minute call with one of our transformation experts
Complimentary, no obligations
Opting for a digital transformation consultation isn't a contract. Medicus provides you with information you need to determine whether or not your healthcare organization is prepared for the leap forward.